Could the Phillies go back-to-back-to-back in the Most Valuable Player Award? Chase Utley was the favorite earlier in the year, but Ryan Howard's name is the one that keeps being mentioned. Could Ryan Howard win the MVP? Yeah. Should it happen? Absolutely not.
Look, I'm a die hard Phillies and Ryan Howard fan, but I'd be the first one to tell you that Ryan Howard does not deserve the MVP Award in 2008.
New York Met, Carlos Delgado's name has also been coming up in the MVP talks. Well, to tell you the truth, nor Howard or Delgado are even the MVP on their own team.
If Ryan Howard were to win the MVP Award, it would not be the first time a Phillie undeservedly won MVP. Jimmy Rollins undeservedly won the MVP last year. I'm happy for Jimmy, but no way he deserved it over Matt Holliday or even David Wright.
Ryan Howard won the award in 2006. In 2006, I believe he deserved it rightfully so, although many folks disagreed and felt Pujols should have won it.
A similar outcome could happen this year. Ryan Howard winning the MVP, and Pujols getting snubbed once again.
Give credit to Howard, he is on a roll right now. Same with Mets first baseman Carlos Delgado. They have both gotten hot at the right time. However, neither should be named MVP. The season started in April, not after the All Star Break. Pujols has been good all year.
The first debate that usually comes up in MVP talks is the letter "V". Valuable. Since Pujols' Cardinals might not make the playoffs, why should he be MVP? Is Pujols hurting the Cardinals? Certainly not. Is it Albert's fault his teammates aren't preforming and doing their job? Certainly not. The Phillies missed out on the playoffs in 2006, and Howard still won it. Playoffs shouldn't matter.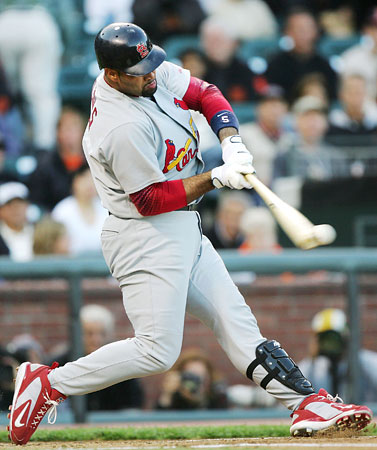 Ryan Howard has a Major League leading 45 homeruns and league leading 136 RBIs. That's about the only case you can make for Howard. Howard beats Delgado, who has 35 homeruns with 104 RBI. He also beats Pujols, who has 31 homeruns and 101 RBI.


There's a huge downside to using RBIs on determining how good a player is. RBIs are a team stat. In order to get more RBIs, you need more men on base. Is it a certain players fault if he doesn't have as many RBIs because his teammates are not on base for him?
Runs work the same way. Howard has scored 95 runs compared to Pujols' 91 and Delgado's 85. However, each have to rely on their teammates to get a hit so they can score.
Howard's batting average is .249. He has raised it a lot since the beginning of the year when he was batting under the Mendoza line. Delgado is batting .263.
Let's also not forget Howard's 190 strikeouts compared to Pujols' 51. A 139 difference! Sure, an out is an out, but when you make contact you have a better chance to get on base in case of an error or miscue by the fielder. Delgado is up there in strikeouts with 114.
Also, Howard's on-base-percentage is .335. Delgado has an OBP of .345. That's extremely low. Pujols' overall average is higher than both of their on base percentages. Pujols' average is .357 and his OBP is .461.
Pujols' .645 slugging percentage is greater than Howard's .537 SLG and Delgado's .508 SLG.
Put OBP and SLG together and you get OPS. Pujols OPS is a MLB leading 1.106. Howard's OPS is .873 and Delgado is at .854.
Each aren't a threat to steal bases, but Pujols has 6 steals compared to Howard and Delgado's one steal each.
Remember how I said Howard and Delgado aren't even the Most Valuable Players on their own team? That is because Utley of the Phillies and David Wright of the Mets have both been better. You can even make a case for Jose Reyes.
Utley and Wright are even, or close to even in almost every category.
Utley has been inconsistant all year, but has put up better numbers than Howard. He is batting .289 with 31 HR, and 95 RBI. His OBP is .377. His SLG is .533. His OPS is .910.
Wright is batting .290 with 31 HR, and 114 RBI. His OBP is .386. His SLG is .534. His OPS is .920.
Both are putting up better numbers than Delgado and Howard, outside of run production.
Factor in defense, and all the players I mentioned have better defense than Howard.
Personally, I don't like to use errors because you have to get to the ball to make an error. Some players will range over to get to a ball, miss it, resulting in an error. On the other hand, another player won't even make an attempt at the ball. Since the fielder did not get any leather on the ball, he will not be charged with an error. Would you rather have a guy who makes an effort all the time, and makes a mistake here and there? Or would you want a guy who doesn't make an effort?
Errors are a judgemental stats. The official scorer determines whether to give the guy an error or not. It's simply an opinion.
However, from watching both play, Pujols' Gold Glove type defense is much better than Howards. Pujols' throws to second are almost always on the money.
There are even more players I'd put ahead of Howard and Delgado. Lance Berkman should be second behind Pujols.
Berkman has a .322 AVG, with 28 HR and 100 RBI. Berkman has a .426 OBP and .586 SLG. His OPS is 1.012.
Matt Holliday should also be in contention.
Holliday is hitting .325 woth 25 HR and 84 RBI. Holliday has a .411 OBP, and .546 SLG. His OPS is .957.
Compare those guys to Howard, and each have Howard beat.
There are plenty of others you can make a case here, but my case is done. I'm not trying to bust on Howard. He has improved all year, and has put together a solid year. However, there are players who have been better. Howard is not the 2008 Most Valuable Player.