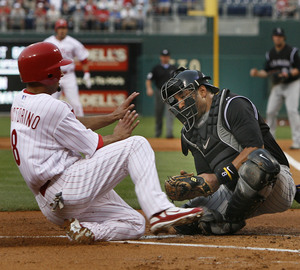 A successful
April
brought on May, where the Phillies went 17-12 in the month.
After a red hot April, Utley and Burrell's numbers started to drop. Utley hit .259 in May, his lowest monthly batting average. Burrell's May batting average was as low as .227. Cole Hamels had a 4.89 ERA, his highest monthly ERA. Brett Myers continued his struggles posting a 5.94 ERA in May.
As a team, the Phillies posted a 4.25 team ERA. As a team they hit .273 with 42 homeruns.
Despite a statistically down month for some key players, the Phillies still managed to win. Other players stepped up.
Ryan Howard tore up Spring Training, but started the year stone cold hitting .168. In May, slowly started to pick up the pace as he hit .238 with 10 HR.
Jayson Werth was added to the disabled list at the end of May, but Jimmy Rollins returned from his month long stint on the DL. Rollins helped carry the team in May as he hit .298 with 12 RBI. Jenkins, who filled in for Werth, batted .303 with 10 RBI. Pedro Feliz hit .311 with 18 RBI.
May 2:
Aaron Rowand returned to Philadelphia for the first time. He received a big round of applause in his first at bat as he tipped his helmet. The applause turned into boos as he hit the go ahead homerun in the 10th inning to give the Giants a 5-4 lead. However, his ex-teammate, Pat Burrell hit a walk off homerun as the Phillies won.
Two days later, the Phillies beat the Giants again as Geoff Jenkins reached on an error in the 9th inning that scored Ryan Howard from second base as the Phillies won, 6-5.
May 15:
Cole Hamels threw a complete game shutout against the Braves. In his next start, Hamels would throw 7 shutout innings.


May 20: Greg Dobbs drove in the Phillies only run against the Washington Nationals in the 9th inning. The Phillies won the game 1-0. Greg Dobbs delivered once again with another pinch hit.
May 26:
The Phillies pound 20 runs against the Rockies, a night after they scored 15 runs off the Houston Astros.
In Rollins return, he had 3 hits, 1 HR, and 3 RBI to help the Phillies win 7-4 against the Giants.
May 16:
Jayson Werth hit 3 HRs against the Toronto Blue Jays.
May 23:
Pedro Feliz rips a single off the Astros close, Jose Valverde. The Phillies started to rally, but came off short. Valverde stayed in the game.
The Phillies would have a tough schedule coming up in
June
as the Phillies would face American League teams.