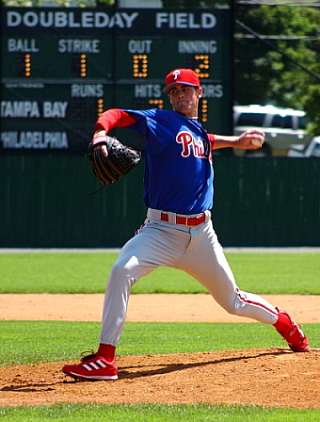 The
New York Post's
back cover read "The Cole War" after Cole Hamels spoke to 610 WIP the other day.
While on WIP, Hamels defined the word "choke," a term in which he called the New York Mets after being asked if they were "choke artist."
"The word choke means you weren't able to fully come through when you were
supposed to," Hamels replied. "I think the Mets had the top teams, they pretty
much had the championships in the bag, and they weren't able to come
through."

"A lot of guys will perceive them as choking in the end and not
fulfilling their end of the bargain, because they should have taken it. You know
what? It really does show the strength and hard work and I guess the deep-down
guts that we have to take it away from them."

The quotes were featured in the New York Post. Hamels acknowledged the talking may have gotten out of hand, but doesn't mind the extra attention it brings. He had no regrets about his comments toward the Mets and said he simply learns from it.
"I don't want it to be bad blood against their players and us, because we
respect each other," Hamels said. "But if it really gets the fans involved,
that's OK. I know that I have the Phillies fans on my side, and I know I'm never
going to have the Mets fans on my side. So it's not like they're going to cheer
me when I go out there."

"I guess if it gets more exciting when we play, I think that's good for
baseball. I think that's what baseball needs. It needs some good rivalries to
forget about the other stuff off the field that's been happening."

Hamels also said he will most likely say something to the Mets during the season. However, they will understand where he is coming from.