Featured on Phillies Nation.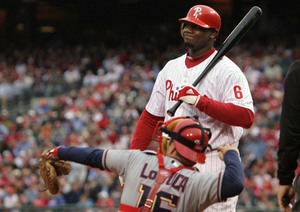 The Phillies finished their homestand 1-8, their worst homestand since August of 2004 when they went 1-9. The Phillies have been struggling on all cylinders; pitching, hitting, and even defensively. Last season, the Phillies were having similar struggles at the same time.
The Phillies crushed the St. Louis Cardinals 20-2 on June 13, 2008. They had a record of 41-28, 13 games over .500, and a four game lead over the Florida Marlins. This year, before the Boston Red Sox came to town, the Phillies were 35-23, 12 games over .500, and had a 4 game lead over the New York Mets.
The Phillies ended up losing the series to the Cardinals before it was time for interleague play. They went 4-11 against American League teams, including a sweep by the Los Angeles Angels. The Phillies finished the month of June 44-39, reducing their lead to just one game.
After the 20 run game, the Phillies offense struggled for the rest of the month. Runs were scarce to come by. The Phillies are in a similar boat, especially without Raul Ibanez. The difference is the bullpen. Brad Lidge was perfect in saves, this year the Phillies have blown a total of 12 saves.
It is better timing than in September, but in the end every game counts. The Phillies rebounded last July and were back to ten games over .500 by the end of the month. They beat the American League when it mattered most; in the World Series.
The slump is concerning but this team is too strong to stay in it for a long time. Brad Lidge will be back soon and Ibanez isn't too far behind. Until then, different players are going to need to step up, something they have not done to this point. The Phillies have proved they are a second half team for the last four years, and hope that this year is no different.