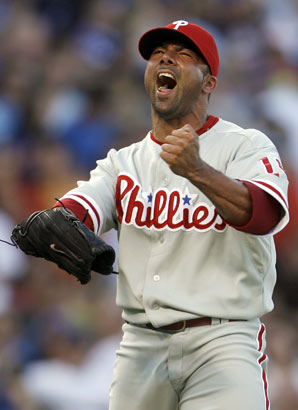 J.C Romero is back! After his 50 game suspension for violating the drug policy, Romero is back in the Phillies bullpen. After several minor league appearances, Romero will look to get right back into Major League action.
To make room for Romero, left hander Sergio Escolona was sent back down to the minors.
In about a month from today, Manny Ramirez, another violator of the policy, will return from his 50 game suspension.
Another left hander, Scott Eyre, says there is a 90% chance he could retire after the 2009 season.
"My wife is probably ready for me to be home. I've been playing for 13 years,
and it's basically all she's ever known. We'll talk about it at the end of the
year, but as of now I would say, yeah, I'll retire."
Another southpaw, Antonio Bastardo, dominated last night taking advantage of an early 4-0 lead against Jake Peavy, who left the game after one inning with a respiratory illness. In the Phillies 10-5 win over the San Diego Padres, Bastardo allowed just 1 earned run over 6 innings. He allowed just four hits, struck out five and walked one.
Bastardo's velocity regularly reached 94, harder than was thought to throw. Known for his offspeed pitches, he dominated most of the game with one pitch: his fastball.
On his birthday, Raul Ibanez hit two home runs, the 200th and 201st home runs of his career.
Call of the Day:
Jimmy Rollins
made a great play to nail Kelly Johnson back in September of 2008.
"Chopped to Rollins.. The play at the plate.. OUT at home
plate! Out at home plate is Kelly Johnson. J-Roll got it into Ruiz in a
hurry, so the runner is now at first base with two outs here in the eighth
inning, on a huge out- here comes Charlie Manuel."