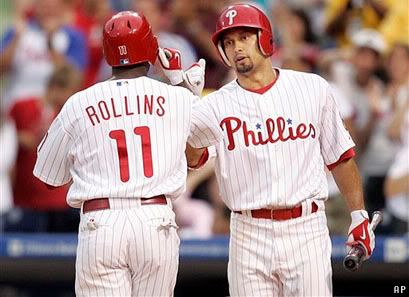 Raul Ibanez was given the day off (later reported his foot was bothering him, but should play Tuesday), but the Phillies still managed to pound out 11 runs against the Boston Red Sox in their 11-6 win.
In the first, Chase Utley hustled out a single as Josh Beckett couldn't make an accurate throw to first. Jayson Werth singled to score Utley and the Phillies took a 1-0 lead.
The Red Sox took a 4-1 lead off J.A Happ, thanks to homers by Rocco Baldelli and Nick Green.
The Phillies weren't going to quit off Josh Beckett. Down 4-3, Ryan Howard hit a two run double giving the Phillies a 5-4 lead, captivating a four run inning. The lead didn't last long because Beckett hit a solo home run in the top of the sixth.
The Phillies blew the game wide open in the bottom of the seventh putting up six runs. Rollins started the rally with a solo home run, breaking a 0-16 hitless streak. Pedro Feliz, who went 3-for-5, doubled in the inning.
It looked like a brawl could of broke out after Rollins was hit by a pitch. Rollins was obviously upset and took his grand old time walking to first base. Shane Victorino was nearly hit, but drew a bases loaded walk off Takashi Saito, who couldn't find the strike zone.
Chan Ho Park, who earned the win, ate innings from a tired bullpen. In 2.1 innings, he allowed only two hits and one walk.
Beckett went 6+ innings, allowing 6 earned runs on 11 hits. Happ pitch 5.2 innings allowing 5 earned on seven hits.
The Red Sox took 2 of 3, but the Phillies avoided a sweep, and with the Mets loss, take a 4 game lead in the National League East.
Call of the Day:
Jimmy Rollins
started off hot in his MVP Year.
"Long drive! Watch this baby! It is.. Outta here! Number EIGHT for Jimmy Rollins
and the Phillies now lead it by a score of 9 to 3. How about the kind of April
JRoll is having. Wow. "