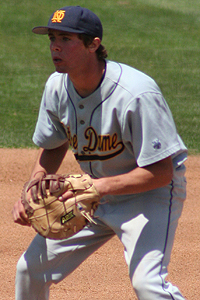 In the second round, the Philadelphia Phillies selected Kelly Dugan 75th overall. Dugan was drafted out of Notre Dame HS.
A Pepperdine signee, Dugan was Notre Dame's top player. A tall and thin switch hitter, Dugan has power to both fields. The Phillies drafted him as an outfielder although he has played first base.
In his junior season, he batted .438 with 28 RBI and 4 HR. He hit .379 with 8 HR in his senior year.
Baseball America
provided analysis on Dugan in April:
"No one should alter his swing, but Dugan may benefit from lower, more relaxed
hands. In addition, Dugan initiates his load mechanism too late, often forcing
him to flick at the ball as it is nearly past him. He'll probably windup in
college after the June draft, but there is little doubt that Dugan has the
ability to be a top draftee in 2012."