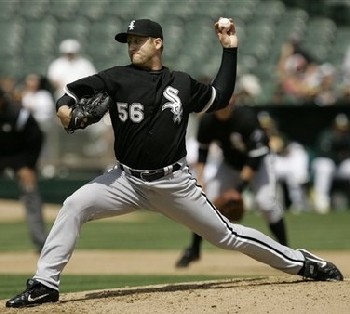 Mark Buehrle threw a
perfect game
in his last outing. Tonight, Buehrle tried to be Johnny Vander Meer and pitch back to back no hitters. Buehrle was on a good pace; he had a perfect game through five innings.
After 5.2 innings, he walked Alexi Casilla to end the perfect game. The next batter, Denard Span singled to end the no-hit bid. He lost the shutout after the next batter, Joe Mauer, hit a ground rule double.
Buehrle set a record for most consecutive batters retired in a row. Previously, the record was set by Buehrle's teammate, Bobby Jenks with 41 in 2007. Buehrle retired 45 in a row.
The Minnesota Twins got to Buehrle, though. He allowed 5 earned runs through 6.1 innings.