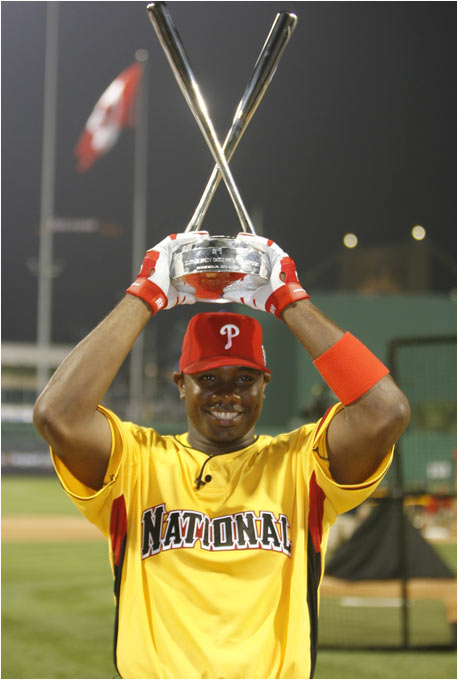 There is that whole "who should be an All Star? The voting system stinks" debate. That's all fun and games. There may be other players who deserve it more than Ryan Howard (Pablo Sandoval, etc.) however, Charlie Manuel picked Howard as a reserve and he had his reasons.
First off, Howard is Phillie. Manuel's players are the reason he is coaching the All Star Game.

He is from St. Louis. He has great numbers at Busch Stadium. In 17 games, Howard is batting .381 (24-for63) with 7 HR and 29 RBI. His on-base percentage is .536, his slugging percentage is .746 and his OPS is 1.282.
The National League has four first baseman (Albert Pujols, Adrian Gonzalez, Prince Fielder and Howard), so chances are Howard will not play. However, Manuel feels that Howard is a reliable bat off the bench to pinch hit. He has proven he can hit in his hometown.
Also, on the All Star ballots, there was a section to vote for who the fans would like to see in the HR Derby. Howard finished second in the balloting, and he will indeed participate in the home run derby. Howard won the derby in 2006.
If I were a betting woman, I'd bet on Howard to win the Home Run Derby. He won it before. He didn't make it far in 2007, but look at the park he played in; AT&T Park. Home runs weren't flying that night.


This year, he'll be up against Pujols, Gonzalez, and Fielder, so far. Tough competition. This is Howard's chance to shine in front of his hometown. He may not get an ovation like Josh Hamilton last year, but I am sure he'll get a good one. As long as he hits homers, which he is known to do, the crowd will be behind him.


I think he will win it. Only one question remains: Will Ramon Henderson pitch to him?