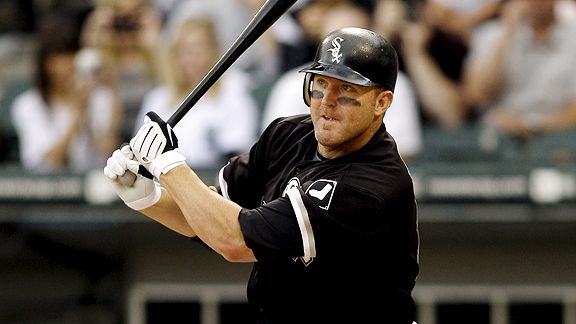 The Los Angeles Dodgers made a couple late night moves prior to the waiver deadline. They acquired Jim Thome from the Chicago White Sox and Jon Garland from the Arizona Diamondbacks. The White Sox will receive Justin Fuller. The Diamondbacks will likely receive Tony Abreu.
The Dodgers fell to the D'backs last night in 10 innings. Garland did not need any travel arrangements. All Garland had to do was walk across the hallway to get to the other side of the clubhouse. Adding Garland was a good addition for the Dodgers. He'll fill in as a fifth starter. He was 8-11 with a 4.29 ERA.
The Thome trade is a little strange. With James Loney manning first base, Thome will serve nothing more than a bat off the bench. Thome is batting .252 with 22 home runs and 74 RBI this season as a designated hitter. The Dodgers are not going to take out one of the best defensive first baseman for Thome, who hasn't played first base since his days as a Phillie.