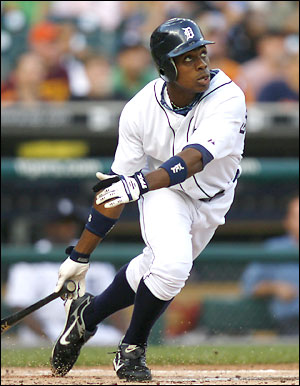 It's day two of the Winter Meetings, and we have a blockbuster deal. The New York Yankees acquired Curtis Granderson; the Arizona Diamondbacks acquired Edwin Jackson and Ian Kennedy; the Detroit Tigers acquired Max Scherzer, Phil Coke, and two other young prospects.
Granderson has a healthy mix of speed and power. He batted just .249 last year, but hit 30 home runs. He has a career .828 OPS. For Granderson, the Yankees surrender Ian Kennedy, one of their top prospects. However, Kennedy has yet to live up to his expectations. A change of scenary may help him; there won't be as much pressure to succeed in Detroit than in New York.
The biggest loss in the trade goes to the Diamondbacks. They get 25-year old Edwin Jackson, who had a 3.62 ERA in 214 innings last year. However, they lose 24-year old Max Scherzer and other young prospects. It's surprising that Scherzer was even in the deal; he's young and has a load of potential, equal or greater than Jackson's. Jackson is a good pickup, but losing Scherzer was a negative.