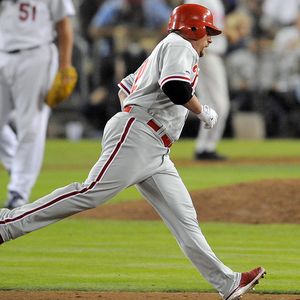 Some players from the former Phillies rosters made the latest baseball headlines:
Matt Stairs signed a minor league contract with the San Diego Padres.
The deal has a major league invitation to spring training. With a weak hitting Padres club, Stairs has a good chance to make the big league roster as a left-handed bat off the bench.
The Padres also signed Jon Garland.
The Washington Nationals reached a one-year agreement with Tyler Walker.
Walker, 33, pitched well in 35.1 innings with the Phillies in 2009. In July, I was surprised a team like the Nationals, who had a weak bullpen, didn't take a chance on him when he was designated for assignment by the Phillies. Instead, he stayed in the Phillies system and pitched well down the stretch.
The Chicago Cubs and Tampa Bay Rays are among teams looking at Chan Ho Park. The Cubs also signed Xavier Nady.
Park was a huge factor in the Phillies bullpen last season, and it's a shame the Phillies can't bring him back. Park mentioned that he wants to start again, but he was more effective in the bullpen last season.
The New York Yankees acquired former Phillies prospect Greg Golson.
Golson was designated for assignment by the Texas Rangers last week. After being designated for assignment, a team has a certain amount of days to trade the player. The Rangers are trading Golson to the Yankees for Mitch Hilligoss and cash considerations.
The Minnesota Twins and Jim Thome agree to terms. No terms were announced, but the deal is one-year, with incentives.
The Phillies claimed Brian Bocock, a 24-year old, off waivers. Bocock was an infielder on the Blue Jays. Bocock brings the Phillies 40-man roster up to 37.
In other baseball news, the Athletics signed Ben Sheets, and are thinking about Johnny Damon. Sheets will get $10 million in 2010 without even throwing a pitch in 2009.
Lastly, the Cardinals signed Rich Hill.