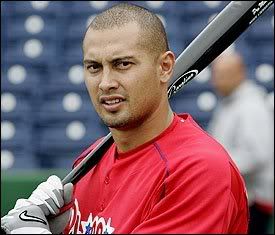 It was a quiet day in Clearwater, as the team prepares for their first spring training game. However, the news reported was not something that Phillies fans want to hear.
Shane Victorino suffered from soreness in his right shoulder. Victorino took batting practice, but did not participate in outfield drills for precautionary reasons.
Luckily, the injury is not serious. Charlie Manuel is unsure if Victorino will play in Wednesday's exhibition against Florida State.
In other news, Brad Lidge is ahead of schedule, but will likely not be ready for Opening Day. If that continues to be the case, Ryan Madson, Danys Baez or Jose Contreras would close.
Call of the Day:
It's been awhile since we had one of the these, but
The Fightins
dug up a clip of Chase Utley's first career hit and grand slam.
"Long drive! Could it be? It is outta here! Grand slam home run,
Chase Utley! Welcome to the show Mr. Utley."