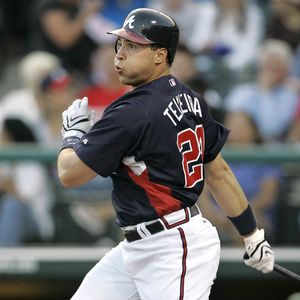 Mark
Teixeira
won't be hurting the
Phillies
any time soon. Instead, he is headed back to the American League. His new team is the division rival of his former team, the Texas Rangers.
As the trade deadline approaches, the Los Angeles Angels of
Anahiem
and the Atlanta Braves worked out a deal. Mark
Teixeira
will be headed to the Angels in exchange for first baseman Casey
Kotchman
, and Minor League pitcher Stephen
Marek
.
With Mark
Teixeira
no longer hitting those "knock-out blows" against the
Phillies
, the
Phils
will now have to deal with
Kotchman
. In the Angels visit to Citizens Bank Park in June,
Kotchman
was 3-11 including a
homerun
off Cole
Hamels
, which was the difference in the game.
Teixeira
is batting .283 with 20
homeruns
and 78 RBI. He has a .390
OBP
, .512
SLG
, giving him a .902 OPS. Not only does he put up the offense, but he gives Gold Glove defense. Tex has only committed 2 errors this season.
Kotchman
is batting .287 with 12
homeruns
and 54 RBIs. He has a .327
OBP
, .448
SLG
, with a .774 OPS. Like
Teixeira
,
Kotchman
has only committed 2 errors.
There's no question that
Teixiera
is the better player in the deal. That is why the Angels threw in 25 year old
Marek
. In AA Arkansas, he is 2-6 with a 3.66 ERA in 34 relief
appearance
.
The Angels
benefited
big time from this trade. They needed another bat in their lineup. They have the pitching, and now they have another bat to go with Vladimir Guerrero. The Angels already have the best record in baseball, and have a
comfortable
11.5 game lead in the AL West. In my opinion, this move makes them an easy pick for a World Series favorite. On the
other hand
, it shows that the Braves are sellers at this trade deadline.