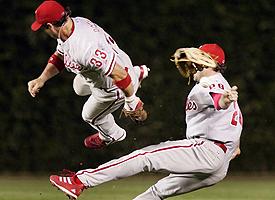 The Phillies split the series with the Cubs and made it out of Wrigley Field in Chicago without an injury to a player.
The Phillies have had their share of injuries at Wrigley.
Just last year, Shane Victorino strained his right calf after running down the first base line. Later, in that same exact game, former Phillie Michael Bourn tripped over the bullpen mound and sprained his ankle. Both players were placed on the Disabled List and missed significant amounts of time.
Also last season at Wrigley, Phillie at the time Kyle Lohse was hit in the arm and suffered a contusion to the arm. He was taken out of the game, but did not miss any other starts.
The injuries at Wrigley don't limit to just last year.
In 2006, Aaron Rowand collided with Chase Utley after going after a blooper in shallow center field. Both being hard nosed players, they each went after the ball. Running in, Rowand turned his ankle. Utley made the catch, but still coming in, Rowand collided into Utley. Utley's glove and the ball went flying to right field. Utley was shaken up, but Rowand had to be helped off the field by his teammates. Rowand suffered a broken ankle.
Also in 2006, prior to a game, Cole Hamels accidentally cut his finger with a swiss army knife. In result, he did not pitch well. Cole made a start this series at Wrigley, and pitched excellent.
In 2005, Brett Myers was hit in the head by a line drive at Wrigley. Myers was fine, and pitched a complete game. Myers also pitched fairly well in Saturday's win over the Cubs.
I bet there are more Phillies injuries that happened at Wrigley, but those are the most recent. Nobody wants to see anybody get hurt, but things happen. The Phillies made it out safe this time.