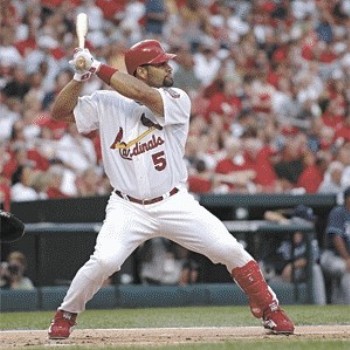 In mid September, Swing and a Long Drive discussed who
should
win the
National League MVP.
Similar to our
NL
Cy Young breakdown, the stats have altered a little, but not nearly enough to change minds. Our pick was Albert
Pujols
of the St. Louis Cardinals, and he was named the 2008 Most Valuable Player.
The race was closer than it
probably
should have, but
Pujols
won and that is all that matters.
Pujols'
369 total points, 18 first place votes, beat out the
Phillies
Ryan Howard who totaled 308 points with 12 first place votes. Also like the
NL
Cy Young Award, other players should have been ranked higher or lower on the list. However,
Pujols
is the winner.
Pujols
finished the 2008 season with a .357 AVG, 37 HR, and 116 RBI. He had a .462
OBP
, .653
SLG
, and a Major League leading 1.114 OPS. He scored 100 runs and only struck out 54 times.
In 2006,
Pujols
led his team to a World Championship while Ryan Howard's
Phillies
just missed the playoffs. Instead of
Pujol's
taking the MVP trophy home, Howard took it. This year, Howard and
Pujols
switch roles.
After Howard was named the MVP,
Pujols
stated this:
"I see it this way: Someone who doesn't take his team to the playoffs doesn't
deserve to win the MVP."
Well, I guess Albert changed his mind. Either way, he was totally deserving of the MVP.