Man or Machine? The infamous T-Shirts with a shirtless Burrell pictured hung in each and every Phillies player's locker during Spring Training 2008. After a World Series Championship, and signing of left fielder Raul Ibanez, Burrell's 9 year tenure with the Philadelphia Phillies appears to be over. Burrell was the longest tenured Phillie on that 2008 World Championship team, and through all those 9 seasons, Burrell has been through plenty of ups and downs with the team.
In 1998, Burrell was drafted by the Phillies out of the University of Miami, where he is now a member of their Hall Of Fame. At the University of Miami, Burrell batted .442 with 61 HR and 187 RBI over 3 seasons. He earned MVP honors during the College World Series. He was quickly rated the Phillies number one prospect by Baseball America. He won the 1999 Paul Owens Award as the Phillies top Minor League Prospect. Burrell quickly worked his way up to the big leagues, making his Major League debut in 2000.
Rico Brogna went down with an injury, and Burrell, number 33 at the time, filled in at first base. In his debut, he had his first Major League hit and RBI. Also in his debut, he hit a triple. He wouldn't get many since, although he said some big triples in his days with the Phillies. He led all rookies with 18 homeruns.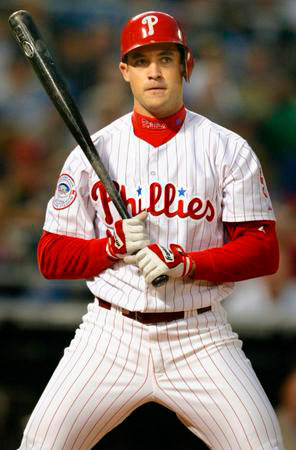 As a personal anecdote, from the time Burrell stepped foot on the field, Burrell was my favorite player. I was only about 9 at the time, but I wrote him a letter. I can't remember what I wrote, but I remember how awesome it was receiving an autographed picture of him in return.
In 2002, Burrell had his best season yet, setting career highs in nearly every offensive category. He batted .282 with 37 HR and 116 RBI, and OPS of .920. Burrell signed a 6 year $50 million contract with the Phillies, including a no trade clause. After the signing, Burrell's numbers began to drop.
In 2003, expectations of Burrell were very high, but Burrell slumped tremendously. He hit just .209. His homerun total dropped to 21, and his RBIs dropped to 64. Burrell, who normally has a high OBP, had an extremely low OBP of .309 in 2003. He had an OPS of .713, a very disappointing year for Burrell. On a historic note, Burrell got the last hit at Veterans stadium. Fans weren't happy with Burrell's production, and thus he heard the boo birds.
In 2004, Burrell rebounded from the previous year as he batted .257 with 24 HR and 84 RBI and an .820 OPS. However, Burrell strained his wrist in batting practice and was placed on the 15 day disabled list for the first, and only time of his career.
In 2005 Burrell's numbers continued to get better from his slump year. He batted .281 with 32 homeruns and a .893 OPS. 2006 and 2007 were statistically similar years. In those 2 years, Burrell averaged an average of about .257 with 30 HR and 96 RBI and 8.96 OPS.
While in previous years, Burrell had second half turn around, Burrell started off the year red hot hitting .326 with 8 HR in April. He should have made his first All Star team, however, Burrell lost the Final Vote leaving him watching the All Star game at home. Burrell ended the year with a .250 AVG with 33 HR and .874 OPS, but more importantly a ring.
Burrell has 251 career homeruns, third on the Phillies all time homerun list. His first hit came in his Major League debut, and his final hit came in the final game of the 2008 World Series, game 5. He was hitless for the entire series, but doubled, just missing a homerun. The hit eventually turned into the game winning run, and a World Championship.
The fans were bitter sweet to Pat Burrell over the years, but never once did Burrell complain. Every day he played his heart out, whether it was noticeable or not. Boos, Let's Go Pat chants, and women trying to flirt with him from the stands didn't stop Pat the Bat.
Burrell was alw
ays the center of trade rumors, but never once asked to be traded. Burrell was even traded to the Baltimore Orioles, but vetoed the trade. Burrell wanted to stay in Philadelphia, and even if you were to ask him now, he would most likely still say he wanted to be in Philly.
Through the years, Burrell as known as the "Met Killer." He hammered 42 HR, which surpassed Barry Bonds and Chipper Jones on the all time list. To go along with the homeruns, Burrell has 104 RBI against the Mets. Perhaps his two biggest hits came in 2007 off closer Billy Wagner. Wagner and Burrell didn't get along too well while Wagner was a Phillies, and Burrell let him know calling him "a rat." Burrell homered off Wagner twice, resulting in 2 blown saves for Wagner.
All of Burrell's ups and downs will always be remembered. So thank you Pat, for being a favorite player of mine for a long time. Thank you, for at times being one of my least favorite players. Thank you for 251 career homeruns. Thank you for striking out looking. Thank you for getting walked. Thank you Elivis, Pat's dog, for supporting the Phillies every home game. Thank you for running slower than I can walk. Thank you for those clutch hits off Wagner and the Mets. Thank you for beating Chris Coste to the mound after the Phillies clinched the 2007 NL East. Thank you for your 2 homeruns in the NLDS. Thank you for your World Series hit. Thank you for the World Series Championship. Thank you for riding the Clydesdale. Thank you for wearing number 5. Thank you for never complaining. Thank you, for being a Philadelphia Phillie.