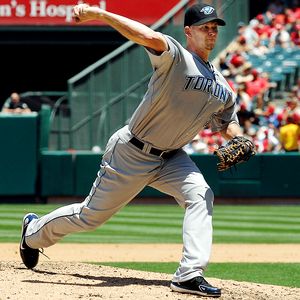 Not even a week after signing CC
Sabathia
, the New York Yankees agreed to terms with pitcher A.J. Burnett. The deal is
reportedly
worth $82.5 million over 5 years.
The soon to be 32 year old right
hander
is 87-76 with a 3.81 ERA and 1.28 WHIP over 10 Major League seasons. Batters hit .235 off Burnett, and he strikes out 8.36 per 9.
Burnett spent 7 seasons with the
Florida
Marlins and 3 with the Toronto Blue Jays.
The report that Boston Red
Sox
are looking to add another Japanese player is not accurate. The rumor stated that Red
Sox
made a 3 year, $21 million offer to
Kenshin
Kawakimi
.
The New York
Mets
have traded Scott
Schoeneweis
to the Arizona Diamondbacks for Connor Robertson and cash considerations. The
Mets
will pay $1.6 million of
Schoeneweis
' 2009 contract.
The
Cincinatti
Reds signed relief pitcher Arthur Rhodes. The Chicago White
Sox
sign the Cuban 19 year old
Danyan
Viciedo
to a 4 year, $10 million contract.