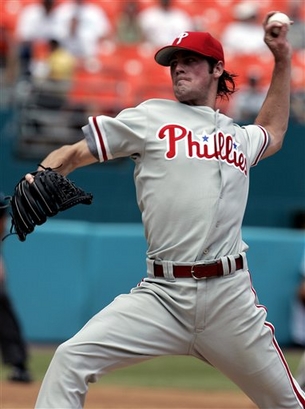 This afternoon, the Phillies take on the Colorado Rockies at Coors Field. Cole Hamels will be making his 2009 debut again Jason Marquis in the cold Colorado weather.
The NLCS and World Series MVP missed time during spring training due to elbow soreness, therefore hasn't pitched as much as he usually does during camp.
Hamels, typically not a good spring training pitcher, was rocked by the Tampa Bay Rays in his last start during exhibition play. His velocity was down, not reaching 90 mph. Hamels has said he doesn't start to increase his velocity until the season starts.
Aces and former Cy Youn winners, Tim Lincecum and CC Sabathia, for example, were lit up in their first starts. So if Hamels struggles, is there reason to worry? Not really, as long as Cole is feeling healthy. If the offense can give him run support and he gets the win, that's a plus.