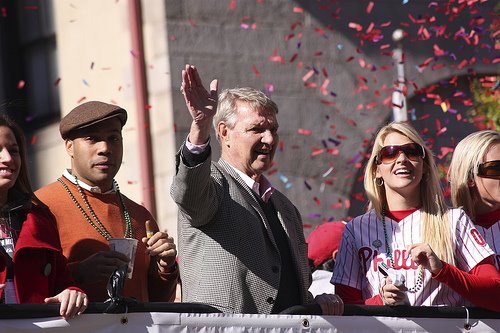 Harry Kalas had an autopsy revealing the cause of his death: cardiovascular disease. The disease is a major cause of heart attacks and strokes.
The Phillies will wear black HK circular patches on their jersey's in the heart area to remember Kalas. Harry's signature will also be displayed on the field for the Phillies homestand.
The Phillies will honor Kalas prior to Friday's home game against the Padres.
After son Kane Kalas sings the national athem and Todd, Brad, and Kane Kalas throw out the first pitch, there will be a moment of silence. Also on Friday, fans will recieve a photo of Harry and watch a video tribute. Fans area encouraged to join into "High Hopes" during the seventh inning stretch.
For the first half of the first inning, there will be no annoucer commentary on CN8's broadcast.
On Saturday, the Phillies will hold a memorial tribute and funeral service for Kalas at Citizen's Bank Park. Burial and funeral service will be private, but the first fans to arrive can pay respects to Kalas at 8:00 AM. An on the field tribute will begin at 1:00 PM.
The Phillies broadcatse booth will be named the Harry Kalas Broadcast Booth, "That ball's outta here!" with an official plaque. It is next to the Richie ("Whitey") Ashburn Broadcast Booth, "This game is easy, Harry." After every Phillies home run, "Outta Here!" will be played over the PA stystem. A drape will be hung over the broadcast booth and a billboard honring Harry will be dispalyed in the outfield.
Call of the day:
Harry was Phillies baseball, and remember his legendary calls. This blog was named after a great
Harry Kalas
call, Mike Schmidts
500th home run
in 1987. Although I was not born yet, its one of the greatest calls of all time. Every Phillies game day, there will be a Kalas Call of the day, a famous call or quote of his from over the years.
""Swing and a long drive... there it is... No. 500, the career 500th home run for Michael Jack Schmidt and the Phillies have regained the lead at Pittsburgh 8 to 6."