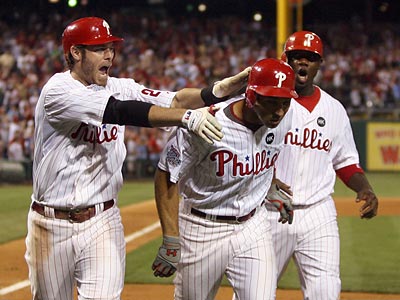 The weather was close to 90 degrees, and as Charlie Manuel would put it, it is
hittin
' weather. The final scored backed up that theory as the
Phillies
won, 13-11.
The game was back and fourth all day. Joe
Blanton
struggled allowing 6 earned runs in 4.1 innings of work. He allowed three monster home runs: two to Ryan Zimmerman, and one to
Elijiah
Dukes.
However, in the 5
th
, the
Phillies
got it all back by one swing of the bat. Ryan Howard's grand slam tied the game at 6.
The game was tied at 7 in the eighth until the Nationals took an 11-7 lead on Nick Johnson's and Adam Dunn's home runs. Scott Eyre struggled allowing the two homers and walked three.


The
Phillies
were able to inch closer, but Raul
Ibanez's
grand slam in the bottom of the eighth gave the
Phillies
a 13-11 lead. It was the
Phils
second salami of the day and the seventh home run of the game.
Because Brad
Lidge
didn't warm up in the pen, Ryan
Madson
came in to save the game. He got the save, and capped off the
Phillies
fourth win in a row.
The
Phillies
continue to score runs in the late innings, coming back once again.
Phillies

Note:
J.C Romero
sues
manufacturer
.