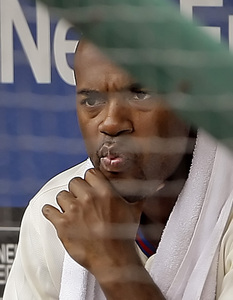 Originally featured on Phillies Nation.
After being benched for four straight games, Jimmy Rollins will be back in the starting lineup on Tuesday. Instead of giving Rollins a double-whammy by moving him down in the batting order, Rollins will return as the lead-off hitter.
Rollins had been struggling all season long, showing no signs of coming out of his slump. He has had some success when moved down in the lineup, however Charlie Manuel insisted that Rollins is the Phillies lead-off man and that he needed time to clear his mind and start fresh.

Manuel told Rollins he did not need to take batting practice. Rollins shagged fly balls on the first day, hit in the cages on the second day, and fielded grounders on the fourth day.

Manuel and Rollins have had numerous and long conversations, but Rollins has declined to comment publicly on the situation.
"I think it [helped him]," Manuel said. "That's why I wanted to do it. I think it's going to help. We'll see the way he performs and the way he goes about playing."
From the information gathered, it doesn't appear Rollins studied film, or focused on fixing his mechanics. The benching served as a mental break more than anything. Charlie Manuel knows his players, but how will the benching help Rollins?