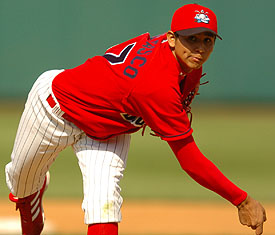 Antonio Bastardo will be unable to make his next start on Wednesday due to a strained shoulder.
Cole Hamels will start Wednesday against the Atlanta Braves. The Phillies are expected to call up Carlos Carrasco from Triple-A Lehigh Valley and he will make his Major League debut on Thursday.
The Phillies will likely be buyers at the July 31 trade deadline. In the past, they may have been looking for a right-handed bat, but now the priority is pitching, starters and relievers. There are a few pitchers the Phillies scouted.
They have looked at Brad Penny the most, but it is unsure whether the Red Sox make him available with Daisuke Matsuzaka on the disabled list. They scouted Chien-Ming Wang in case the Yankees decide to make him available. They have also looked at Jarod Washburn and Jason Marquis.