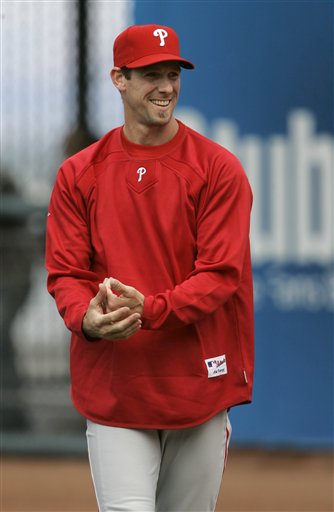 This is goodbye, Clifton Phifer Lee. Philadelphia loves you, and will miss you.
It didn't take long for the average fan to fall in love with Lee in the five months that he was here. His 5-0 start, his postseason dominance, complete games, shutouts, and even his hitting will always be remembered.

Nobody is upset about getting Roy Halladay. We look forward to watching him pitch in red pinstripes in 106 days. It's the fact that the Phillies could have both Halladay AND Lee -- Ruben Amaro practically admitted it.


It was a "baseball decision." Amaro wanted to restock prospects after losing seven of the top Phillies prospects.

Refilling the farm system is understandable, and the Phillies seemed to have gotten talented prospects in return, but they could have done better. How about a major league reliever, something the team needs now? Or maybe better prospects? There are plenty of teams that could use Lee, and would be willing to give something up for him. But what doesn't make sense is the fact that the Phillies would not part with Kyle Drabek in July, but dealt him now. Why not just trade him for Halladay in July and we wouldn't be in this mess? The Phillies would still have three or four more of those top prospects.

Another reason for the trade is money. Lee thought that the Phillies were working on a long term deal with him. "I thought that I was going to spend the rest of my career there. This goes to show this is a business, and you never know what's going to happen until you have a full no-trade clause." David Montgomery later said that the Phillies were "in red" as far as salary goes. Yes, the payroll has reached $140 million, but three million fans supported the team in 2009. Merchandise flies off the hook. The Phillies could absolutely afford Lee. Lee will only make $9 million in 2010. If he couldn't be signed long term, it would make sense to ride him for one more year, and let him walk, get two draft picks, and have Halladay for the long run.

Lee truly thought that he would be a Phillie in 2010, and had no notice what-so-ever of being traded. He was "shocked" and in "disbelief" when he found out about the trade.

Lee comment's were saddening to the everyday Phillies fan. He accepted his new team, the Mariners, and never put them down, despite wanting to "make a third run" at a World Series. He had great praise for the Phillies: "Those guys are the real deal. It was a true team and I can't say enough about them."
We'll miss you Cliff.
The Fightins
recently provided audio of Lee's conference call.