Swing and a Long Drive will be looking at some of 2009's top moments. We had a similar "Year in Review" last year, but instead of month-by-month, we'll look at some of the top games. They are also a part of Phillies Nation's Top 25 Moments of 2009.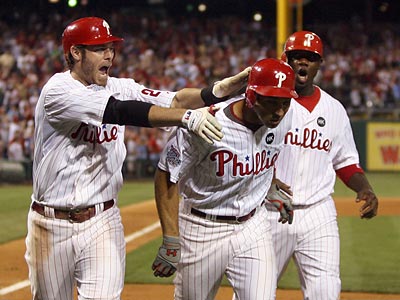 The Phillies had their share of grand slams in 2009; a major league leading eleven of them to be exact. Grand slams are not classified as rare, but they aren't seen on a daily basis. Two grand slams in one game, however, may be a little rare. After all it happened four times in franchise history: 1921, 1997, 2003, and April 27, 2009.
April was a rough month for Joe Blanton, and he continued his struggles in this game: 4.1 IP, six runs, eight hits and three walks. The Phillies found themselves trailing 6-2 in the fifth, but Ryan Howard's salami to straight away center field tied it up.
The Nationals were homer-happy themselves. Ryan Zimmerman homered twice, Elijah Dukes hit a monster shot, and Nick Johnson broke the seventh inning tie with a two-run home run. It started to look like it got out of hand for the Phils, who trailed 11-7. But if there was one thing learned about the 2009 team, it was to never give up on them.
In the bottom of the eighth, the Phillies were able to inch closer and load the bases for Raul Ibanez. "I knew I hit it far and I was just hoping it wouldn't hook out. I was trying to go short with my swing and drive in the runner from second base," Ibanez said. He did that and more.
Ibanez smashed a grand slam
which ultimately won the game.
The slug fest was one for ages, and just another showcase of the comeback kids.
Other Top Moments:
J.A Happ's complete game shutouts. Happ shut out the Toronto Blue Jays, 10-0. Jayson Werth hit two monster home runs. Happ threw another gem against the Rockies and won 7-0. Also, Cole Hamels threw a complete game shutout against the San Francisco Giants.