Philly vs. New York. The City of Brotherly Love vs. the Big Apple. The Liberty Bell vs. Broadway. Cheese steaks vs. Pizza. No matter the sport, both cities hate each other's guts. Eagles vs. Giants. Flyers vs. Rangers. Sixers vs. Knicks. Bad blood. The Phillies and Mets on the other hand... talk about a high blood pressure.
Before 2006, the Philadelphia Phillies and New York Mets didn't have much of a rivalry. Both teams were never good at the same time, or both teams were horrific. When the Braves finally gave up their 14 year streak of division titles, the Phillies and Mets were the two teams on top of the division. The focus of the Phillies and Mets moved away from the Braves, and onto each other. Something that may have started between fans in the stands carried onto the field.
In Part I of this series, we will look at the roots of the rivalry and how this rivalry has come to grow.
Everybody knows about the classic Boston Red Sox and New York Yankees rivalry. While the Phillies and Mets don't have the history of that rivalry, it's becoming one of the better rivalries in Major League Baseball.
A bat flip, finger point, or dancing after a home run could start controversy. All it took was a few words for the rivalry to get started. Perhaps it started with the saying "Ya gotta believe!" said by Met turned Phillie, Tug McGraw, originally stating it with the Mets. However, it became a slogan for the 1980 World Series Championship Phillies, and McGraw carried it throughout his life. Although it wasn't a big deal in the day, it may be now more than ever. Which team has rights to the quote?
Billy Wagner also may have played a role in the rivalry. In the 2005 offseason, Wagner turned down an offer from the Phillies, signing with the Mets. Wagner claimed he chose the Mets because the Phillies failed to offer him a no trade clause, but the real reason may have Pat Burrell, who reportedly called Wagner "a rat" after Wagner claimed the Phillies had "no chance" at the postseason.
Instead of a positive quote like McGraw's for the use both teams, talk was directed at each other. The Mets won the division and lost the NLCS in 2006. You'd think they would be the favorite for 2007 with talented young players David Wright and Jose Reyes, but Jimmy Rollins thought differently.
"I think we are the team to beat in the NL East - finally. But that's only on
paper." -Rollins
Rollins knew he wasn't going to get away empty handed.
"I read in the paper that Jimmy Rollins thinks nobody else has a chance. … When
you read that, it irks you a bit and makes you want to go out there and beat
them that much more." -Wright

Other comments from other players were overshadowed due to Rollins bold statement, such as Tom Gordon's.
"Everybody pencils in the Mets. Everybody pencils in the Braves because they've
done it every year. But why can't the Phillies win this year and next year and
the following year, and be one of those teams?" -Gordon
After being swept by the Phillies in August, the Mets heads were up a little too high.
"They're dancing around the field now, but we'll see what happens when the time
comes." -Paul LoDuca
"I've been there many times and this all feels very normal to me, very much like
what a pennant race should be. My players are feeling it, too – and this will be
a good experience for them. When we sip a little champagne later on, it'll be a
little sweeter." -2007 manager Willy Randolph
Leading the division for the entire season, 17 games to go and a 7 game lead, the Mets won just 5 games, while the Phillies went 13-4. The final day of the season marked an epic collapse. The Florida Marlins toppled the Mets, and Brett Myers threw a curveball to Wily Mo Pena capturing the Phillies first division title since 1993. Not only was Rollins right, he backed himself up winning the 2007 MVP Award.
After the collapse, the Mets had no other way to respond to Rollins than to go out and get one of the best pitchers in baseball, Johan Santana. The Mets were declared favorites by all baseball experts. With their new addition, the Mets felt confident that 2008 would be different than 2007.
Carlos Beltran was the first to let everybody know.
"Without Santana, we felt, as a team, that we had a chance to win in our
division. With him now, I have no doubt that we're going to win in our division.
I have no doubt in that. We've got what it takes. To Jimmy Rollins: We are the
team to beat." -Beltran
Coming from Beltran, a quiet player, the comment was shocking. Rollins joked about it, but also made another prediction of his own.
"We'll win probably 100 games … 100 games will get us to the playoffs."

"There's going to be fireworks, I know that much … and I plan on another
celebration, but not just one. I don't plan on giving up that title of NL East
champions, I know that much. I don't know if we can make a run like the Braves
did, but we've started." -Rollins
It turned out that Beltran's comments were wrong. For the second straight year, the Phillies came out on top of the division. Although the Phillies won 92 games in the regular season, 11 postseason wins totaled them to 103. Rollins was right again.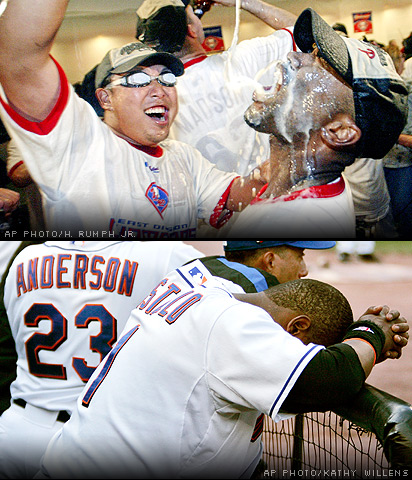 During the 2008 season while the Phillies were starting to slump, Hall of Famer, and all time Phillie great, Mike Schmidt used the Mets to motivate the Phillies.
"One pitch, one at bat, one play, one situation, think 'small' and 'big' things
result, tough at-bats, lots of walks, stay up the middle with men on base,
whatever it takes to 'keep the line moving' on offense, 27 outs on defense, the
Mets know you're better than they are," Schmidt wrote. "They remember last year.
You guys are never out of a game. Welcome the challenge that confronts you this
weekend. You are the stars. Good luck. #20."
While the Mets were playing golf, the Phillies went onto win the World Series. At the parade, talk was still about the Mets, from the mouth of Rollins.
"A lot of things were made in the offseason," Rollins said. "We can talk about
the New York Mets. They brought in that great pitcher, Johan Santana, but they
forgot that it takes more than one player to bring home a championship."

If that was enough for the Mets,
Cole Hamels
took a shot. While be interviewed on WFAN, Hamels was asked if the Mets were "choke artist."
Hamels replied: "Last year and this year we did believe that. I think three
years ago we didn't, because they smoked everybody and I thought that was the
year they would go to the World Series - and unfortunately that didn't happen.
But, you know, that's kind of what we believe and what we're gonna always
believe until they prove us wrong. Yeah, over the last two years they've been
choke artists."
Former Met Darryl Strawberry had an answer.

"That's sad… If we had a team say that about us – oh, no – they were gonna be in
trouble… I mean, it would definitely be hard if, in the days us playing, if
somebody said that, I mean, we'd have stuck one right in his neck. We'd be
fighting. There's no way any one would be allowed to disrespect us like that,
and that is what has happened to the Phillies." -Strawberry

The Mets bullpen was their main problem in 2008, blowing 29 saves, posting a 4.24 ERA. The Mets addressed this problem signing the all time single season saves leader, Francisco Rodriguez. He immediately got into the rivalry.
"Of course we're going to be the frontrunner. Of course were going to be the
team to beat," Rodriguez told reporters. "I don't want there to be a
controversy. I don't want the other team to take it personally, or take it in a
bad way. But I'm a really competitive guy. I like to win. If they ask me, 'Oh,
which ball club is going to win the National League East?' It's going to be the
Mets. Easy question."
K-Rod used two of Rollins words: "frontrunner" and "team to beat." The last time a Met used JRolls words, it didn't work out to well for the Mets.
David Wright has also gotten into the action. Wright has been respectful toward the Phillies, stating since they won the division, they're the team to beat. However, he finally snapped, admitting his true feelings toward the Phillies.
"I don't like [the Phillies]. I know they don't like us. There are guys that I
respect on that team. I respect them, but that doesn't necessarily mean that I'm
going to be friends with them. My whole career, I've tried to stay away from
that. I'll shake somebody's hand and say hello, but I'm not going to be
buddy-buddy with anyone before the game."


"I'm not a big fan of the teams in our division just because we play them so
much. I would hope as a competitor that you would have that edge, that you would
have a genuine interest to go out there and beat them by as much as you can." -
Wright
Not only has the talk been between the Phillies and Mets, it has spread throughout the National League East. Just recently, Chipper Jones expressed his feelings of the rivalry, and being left out of NL East chatter.
"From a Mets standpoint, they've had a running feud with the Phillies the
past couple of years. It's kind of weird not to be in it."

"We won for 14 consecutive years, and you never, ever saw any bulletin board
material. And now that these two teams are on top of the division, they can't
keep their mouths shut. Just go play baseball. It's Cole Hamels now. It was
Jimmy Rollins and Carlos Beltran the past couple of springs. These two teams are
constantly going at each other verbally. You know, win with class, lose with
class. Just keep your mouth shut and go play your game."-Jones.
There hasn't been a brawl... yet. With all the talk already, this is only the beginning of the rivalry. The rivalry continues to grow day in and day out. It's the early stages on a rivalry that could become of the classics. Every they play each other on the field, they give it their all, as we'll look at in Part II. The rivalry makes the game so much better.
QUOTE SOURCES: Wikipedia, ESPN, Home Run Derby, MetsBlog, The InterMet, The Sexy Crimes