I talked to Shay Roddy, writer for the blog
Phillie Phanatics
, about his thoughts on the 2009 Phillies. Here is Part II of the interivew:
Who do you think will win the 5th spot in the starting rotation?
Shay:
I'd cross Carlos Carrasco off the list, he looks like he definitely has potential in the future, but just isn't ready yet. [Kyle] Kendrick doesn't seem to have it anymore. He might be the next Gavin Floyd, one of those guys that just needs a change of scenery. Chan Ho Park looks strong, but would best fit into the bullpen. That leaves J.A. Happ, who's looked very good this spring. He looks, to me, like a guy who could be a good pitcher for quite a while.
Who is the Phillies player to watch in 2009?
Shay:
Raul Ibanez. He's replacing someone who evolved into a fan favorite. Raul needs to win the fans over early. I think he can, too. He's a hard worker, and someone who wants to win. He's the player to watch only because he's the only player we haven't really seen much of before… Ruben Amaro, Jr. did a terrific job resigning everyone.
Who do you think is the best Phillies prospect?
Shay:
Jason Donald and Carlos Carrasco both look strong. John Mayberry, Jr. and Gary Majewski have also looked sharp this spring. I doubt we'll see much of Mayberry or Donald this year, but watch their names in the future. Carlos Carrasco is a guy who I could see coming in sometime around the all-star break, due to injury or poor performance by someone in the rotation. I could also see Majewski having some sort of role in the bullpen this year.
What is the Phillies biggest concern for '09?
Shay:
There aren't many. Maybe the starting pitching… You have Hamels, who's complaining about this am problem, Myers, who was demoted to the minor-leagues as recently as last season, Blanton, who's ok, but nothing special, Moyer, who's bound to break down someday, and whoever your fifth starter may be. There's a few question marks in there, but I think they'll be ok.
How will the Phillies finish in 2009?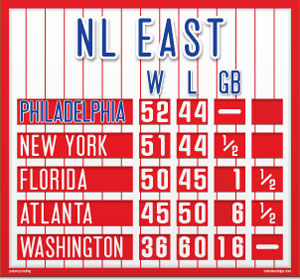 Shay:
I'm tired of hearing people pick them to finish behind the Mets. I don't care who the Mets' new closer is, he wasn't perfect. Anyone who has the world champs out of the playoffs, especially when they brought back every player on their World Series roster (except [Pat] Burrell and [So]Taguchi) just lost some of my respect. Phillies will win the East, beyond that, you never know… I don't think it's fair to anyone to pick a world champion before the season starts.
What do you think of the Phillies/Mets rivalry?
Shay:
It's great for the cities and great for baseball. Does it have the potential to turn into a Yankees/ Red Sox type rivalry? No, but what we have is pretty great.
The only real downside to it is the player involvement. When J-Roll first said we were the team to beat he meant it. Now it's starting to turn into a joke. Let the rivalry be between the fans. The players should just go out and play.
Thanks Shay! I appreciate you taking the time to answering my questions!