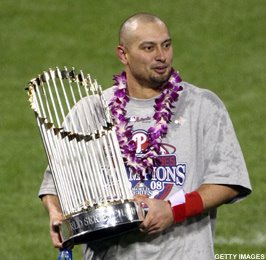 Shane Victorino has been named the starting centerfielder for the 2009 All Star Game. Victorino, who won the Final Vote, will be starting for the injured Carlos Beltran.
All the other outfeilders on the team are corner outfielders. Jayson Werth can play center, however is an everyday right fielder.
The NL lineup: Hanley Ramirez (SS)/ Chase Utley (2B)/ Albert Pujols (1B)/ Braun (RF)/ Raul Ibanez (LF)/ David Wright (3B)/ Shane Victorino (CF)/ Yadier Molina (C)/ Tim Lincecum (P).
The AL lineup: Ichiro Suzuki (RF)/Derek Jeter (SS)/ Joe Mauer (C)/ Mark Teixeira (1B)/ Jason Bay (LF)/ Josh Hamilton (CF)/ Evan Longoria (3B)/Aaron Hill (2B)/Roy Halladay (P).
Pedro Martinez will be in Philadelphia today. If he passes his physical on Tuesday, the Phillies could sign him to a one year, prorated contract.
In other news, Manny Acta was fired last night.