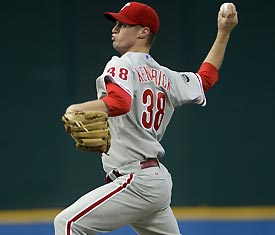 Kyle Kendrick was a late scratch from his start with the Triple-A Lehigh Valley IronPigs. The move is a little suspicious, but it could mean one of a few things.


He is legitimately hurt. However, my IronPigs insider, IRONPIGPEN, told me that Kendrick is not hurt.
He is getting called up. However, that might not make sense because the Phillies have nobody to send down, unless somebody is being placed on the disabled list. Even though, they would probably recall Sergio Escalona if that were the case.
There is a trade in the works.
Call of the Day: In 2007, Kyle Kendrick made some nice plays against the Pirates.
"Nice play by Kendrick. That will not get the run home. That is
out number two."